Join Zoho at Zoholics Australia 2018
Business software, however very important for the running of a business has its own complexities, which can be a big headache. The complexity can be in almost all the segments of the process such as: designing, deploying, security, scaling and training etc.
Zoho is aware of the cost-prohibitive nature of the software required to run businesses in Australia's SMB, which is the reason why it is organizing this Zoholics event in Australia.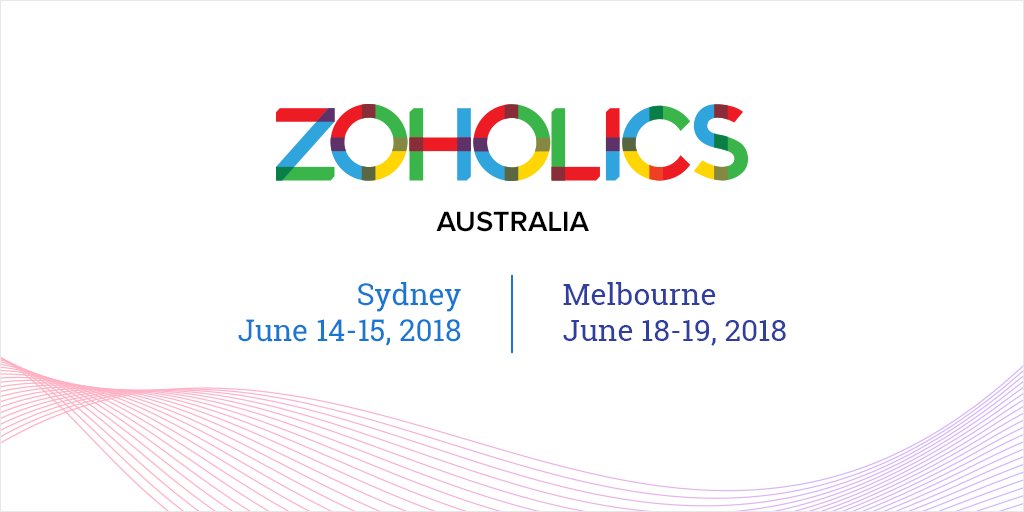 Zoho is the operating system for businesses; it is a single cloud platform with all the necessary applications to run a business entirely from the cloud. Zoho's sales, finance, marketing and customer support applications can be used by businesses to acquire and manage customers. Businesses can then further empower their employees to create, store and distribute content on the cloud with Zoho's productivity and collaboration applications such as Zoho Office, Mail and Docs.
Zoho Creator
Out of the 40 products for business by Zoho, Creator is the one which lets the users create custom apps for all their industry needs. The apps can perform internal as well as external operations for an organization.
Creator provides 50 readymade apps like sales management; employee onboarding and customer service tracker, users can choose any of these apps and customize them accordingly.
Zoho reached its 1 million user base in August 2008, as of now it has a 30 million strong user base in the world. Some of the market giants that work with Zoho are Suzuki, Adobe, Tesla, Cisco and Dolby etc.
Read More: Zoho Corp. launches Zoho One in UAE
Sydney & Melbourne Events
It is planning to expand itself to offer its services to the small businesses in the Asia pacific region that is the reason why it is organizing workshops in Sydney and Melbourne.
Zoholics is made to give the users an opportunity to learn and get access to the resources. The conference attendees will get to learn about the latest Zoho solutions and offerings, experience workshop sessions and connected with other Zoho users and get their knowledge and experience on the use of Zoho. Reserve your seats at the event by either visiting the Zoho website or directly calling Zoho phone number.
The Zoholics 2018 will be held in Sydney on 14th & 15th June and in Melbourne on 18th & 19th June. If you want to expand your business by getting in partnership with the Zoho and need cloud software for your business, then you wouldn't want to miss this opportunity.